Arcade Casino Games:
All your favourite Arcade childhood games are now moving from the old coin operated arcade machines to online Arcade casino games, with new games coming to the market every day from top online casino.

Why not come and refresh your childhood memories in trying out one of these Arcade casinos games you see below for free at one of the top casinos? Play all you favourite Arcade casino games such as, Heads or Tails, Spin a Win, Paper Rock Scissors and more.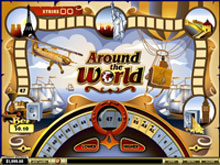 Around The World:

This is a game whereby you have to correctly guess whether the next spin of the wheel will be higher or lower than the previous one, around the world is a high low numbers game. If you guess the correct answer you will move to the next spot round the board. You do have help on the way with your journey round the world by having strikes between levels and special features which can advance you one step closer to the next stage. Around The World can be played at the following casinos below....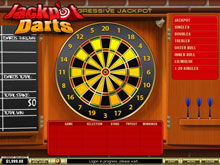 Jackpot Darts:

All you need to do here is predict where on the board the darts will land and you could strike it lucky. Jackpot Darts offer huge progressive Jackpots as well, if you can throw three Bulls either Inner or Outer in one game you could win some big money! You get to place bets on number, either individual numbers, singles, doubles, trebles, outer bull, bulls eyes, or ranges all within the same game. Jackpot Darts can be played at the following casinos below....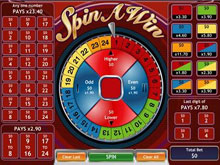 Spin a Win:

A wonderful wheel game whereby you can place bets on which of the 24 numbers the wheel will stop on. The choice of bets they have on offer include, any one number, odd or even, number range betting, and colored segment betting. All bets can be placed on the individual numbers, colours, odds, evens, ranges, lower or higher and on last digits. Spin a Win guarantees you with endless amount of fun. Spin a Win can be played at the following casinos below....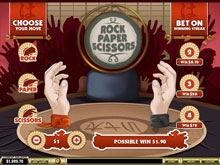 Rock, Paper, Scissors:

We all know this game, good old Rock, Paper, Scissors. Aim of the game is to beat your opponents hand. All you need to do is pull out one of 3 options that you think will beat your opponents option. How to determine a win is very simple....Rock beats Scissors, Scissors beat Paper and Paper beats Rock and their you have it, as easy as 123. Rock, Paper, Scissors can be played at the following casinos below....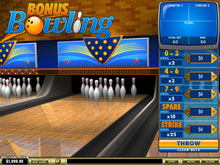 Bonus Bowling:
It's time to get out those bowling shoes of yours for a fun time to remember....and come join in on the fun with this exciting ten-pin multi-bet bowling Arcade game. Place your bets on the number of pins you think will be knocked down with 2 bowls before the ball is bowled. Bonus Bowling can be played at the following casinos below...
Derby Day:

Now here's a game for the men - Derby Day is a virtual horse racing game with fixed-odds. A game where you can choose multiple betting patterns where you get to bet on who you think will come in, at 1st, 2nd, or 3rd place, Or you bet on 1st-2nd-3rd, or betting on 4-5 horses based on there finishing position. Derby Day can be played at the following casinos below...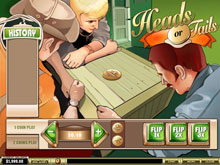 Heads or Tails:

We all know the "heads or Tail" game right..?? Now this game has 2 versions to it. The double coin or the single coin. Players must bet on either heads or tails and the number of times that side will land on. The double coin version allows players with more of a combination of bets bets and with higher payout's. Heads or Tails can be played at the following casinos below...